I am absolutely loving this FabFitFun subscription box. The full size products that come in each box are absolutely wonderful. That's right – no more tiny tubes of shampoo and conditioner just hanging around for months on end. One person couldn't possibly use the amount of small products I'd get from Sephora Play! and Ipsy (both of which I've cancelled). I did enjoy those subscriptions, but I felt like I was throwing away money for shit that I just wasn't using. With FabFitFun, I can at least give the product a real try. I'm also pretty excited that it's not all beauty related. Last month's box was that adorable black travel mug with a cute saying on it: Joy comes in the morning. I actually really like using that cup for work mornings! Anyway – Let's dive into this months box!
BUTTER LONDON ICONOCLAST MEGA VOLUME LACQUER MASCARA – $20.00
This product comes in a a .22 oz tube and I got it in the shade Brilliant Black. The packaging isn't anything special in my opinion. It does seem to get thinner towards the bottom of the tube (not sure if that's supposed to help the product work or not). The wand very different from anything that I have, though. It starts out like a regular wand and as you get towards the tip it expands out into a ball shape. I haven't used it yet, but so far I'm happy that there isn't much of a smell to it and when I pull the applicator out of the tube, a lot of product seems to get cleaned off of the bristles. I also appreciated the short stiff bristles as opposed to the long stringy ones. I don't like to overcoat my mascara. I've never owned any products by Butter London, so I'm really looking forward to this one.
D. L. & CO BLACKBERRY NECTAR GOLD 7OZ CANDLE – $44.00 
Holy shit! This is a $44.00 candle. Look, I know nothing about candles. I love my Yankee candles, but I can't even stomach spending $25 on a candle – let alone $44! I would be lying if I said it didn't smell fabulous. I feel like I can smell the tartness in the blackberry. If this came in a body lotion, I would probably have to buy it. The trellis gold pattern on the outside is absolutely stunning. It would be a great background piece to have lit if I had my own YouTube channel. Maybe some day *looks for off into the distance where she just vlogs all day instead of going to an office*.
MOLESKIN 2017 WEEKLY PLANNER – $20.95
I haven't had a planner since – well, never. I don't think I've ever been the type of person to carry a planner around. By the time I was old enough to make plans and actually have a life outside of going to school and hanging out at the mall – Smart Phones were really ramping up. I jump into my Google Calendar right from my phone whenever I want to set a date and I'm all set. I actually have been considering picking up a planner for the new year, though. I like this one doubles as a journal. I used to journal religiously when I was a teenager and as I got older – well – you know the story. Life, bills, responsibilities – blah! This might be just the thing I need to get myself more in that creative mindset!
ANDERSON LILLEY NO12 COASTAL COLLECTION BEACH BUTTER BODY CREAM IN SICILIAN TANGERINE – $24.00
I haven't even opened this yet. I went to smell it before, but it had one of those silver safety seals over the top. Let me go smell it now.. Oh, good heavens that's delicious smelling. It's fresh and sharp with an absolute delightful citrus scent. I never was one to enjoy the scent of citrus, but it's definitely grown on me in the past few years. I just used some on my hands and this shit is magical. Wow! It's not greasy at all. It feels like it absorbed right into my skin the moment I started rubbing my hands together. The little newsletter you get with each box suggest applying this to the soles of your feet and wearing socks to bed to lock in moisture. I might have to try that! I'm definitely going to keep this by my bed to use right before I fall asleep. Absolutely love it!
O.R.G SKINCARE MINERAL PEEL FACE WITH BRIGHTENING AGENTS – $44.00
Lately, I have been obsessed with skin care. I'm not sure what's causing it, but I have had horrible breakouts on both sides of my chin recently. They start off as bumps and end up turning into zits. I'm sure touching my face constantly isn't helping the situation in the least. The website says you can eliminate cakey makeup by prepping your skin for flawless makeup application and it's finished with natural brightening agents: milk thistle and licorice root. I'm pretty much willing to give anything a try. Alexandra from LearningToBeFearless on YouTube recently tried this stuff out and her reaction is pretty much spot on to what I would be like. I guess you just spray your face with it and then rub it in? I don't know – I don't like the idea of spraying a cleanser, mask, or moisturizer on my face so we'll see how this goes down. I might try this one tonight actually.
GORJANA NECKLACE TANER TOGGLE LARIAT IN GOLD – $75.00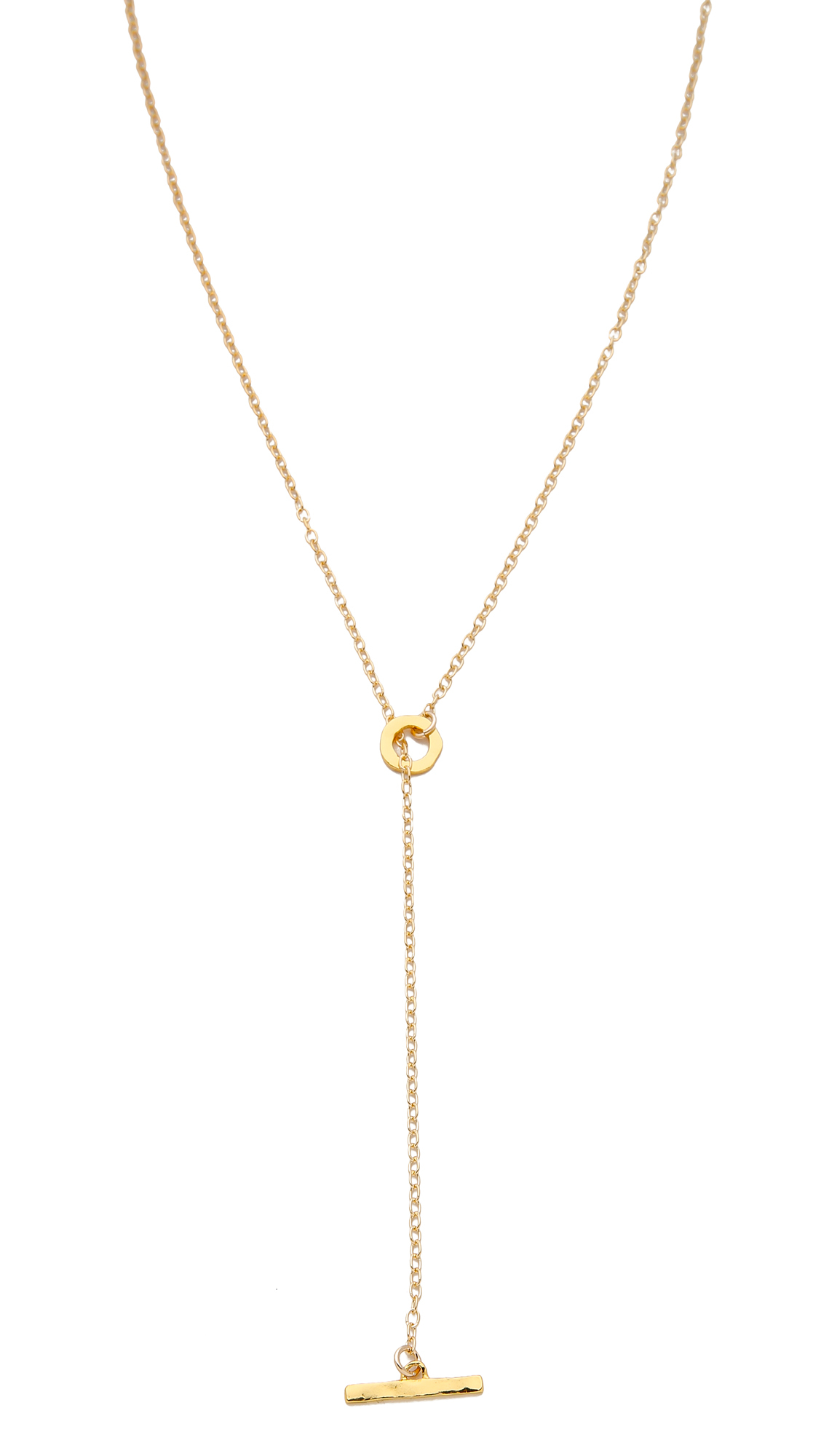 I pretty much never wear jewelry. Like – ever. No earrings, no rings, no bracelets – nada. I do have to say that I like this one very much. I like it for it's simplicity. I'd imagine this would look stunning when wearing a turtleneck, or like the newsletter suggests – your favorite LBD for the holidays. My one gripe with necklaces like this is how thin the chain is. I feel like I'm going to be constantly getting kinks out of this necklace as I wear it. It's still stunning and I'm looking forward to wearing it this holiday season!
MARIE MAE COMPANY THANK YOU CARD SET – $24.00
This card set is actually pretty damn adorable. I don't think I've ever written a thank you card in my life – but that doesn't mean I can't start! As soon as I saw these I figured I'd give them away, but I might hold on to these for a while. They're adorable and there's going to come a day where I'm going to want to write a thank you note. I'll be glad I have these!
The very last item found in this months box is a pin shaped like a star. FabFitFun partnered with Starlight Childrens Foundation to raise awareness to their cause. "Each year, more than 30 million children in the US suffer from a critical, chronic or terminal illness." If you're interested in donating to the cause, you can give a gown for just $25 directly on their website.
So, that's it! That's this months box. I hope you enjoyed this blog post. If you subscribe to FabFitFun and you just want to shoot the shit over these awesome products with me – don't hesitate to reach out!
Now – I must go bask in the scent of blackberry nectar, bathe my feet in tangerine, plan out my next year, look elegant in a new necklace, exfoliate my face, and write 31 years worth of thank you notes.